Best Tourist Places in Kankavli, Sindhudurg, Maharashtra, India
Kankavli is a survey town located at an elevation of 42 meters in Sindhudurg District in Maharashtra State in India. It is placed 15 km away from district main town Sindhudurg and about 491 km from state capital Mumbai. Bhalchandra Maharaj Temple is a chief worship place and the major landmark of the town.
Kankavli Town covers an area of 8.46 sq. km. and is located between latitude 16.28551° in the north and longitude 73.68446° in the east. The Postal Code of Kankavli is 416602. Kankavli is famous for its educational institutions like Sindhudurg Shikshan Prasarak Mandal's College of Engineering and S.M. High School. Bhalchandra Maharaj and Savdav Waterfall are the prominent tourist destinations situated in Kankavli.
Main villages in Kankavli Taluk are:
Shirwali
Savdav
Karanje
Nagawe
Varawade
Bidwadi
History of Kankavli:
Kankavli witnessed the rule of the major dynasties of the history. Kankavli was ruled by Chalukya Dynasty, Maurya Empire, Nala dynasty, Maratha Empire, Portuguese Power and British East India Company.
Culture, Food and Shopping in Kankavli:
The higher majority of Kankavli locals speak Malvani along with Marathi, Hindi and English. Rice, Coconut, Kokam, Mango, Cashew are the major crops consumed and exported by the farmers of Kankavli. The local cuisine of Kankavli generally called as Malvani cuisine. The natives use coconut, rice, vegetables and dal to cook their foods. Kombdi Vade and Ukadya Tandulachi Pej are the popular food items in Kankavli. Kankavli Town is well packed with retail outlets, shopping malls, cloth stores, and single screen theatres. In recent years, there are several International retail outlets started their operations all around the town.
Connectivity to Kankavli:
National Highway 17 and National Highway 66 are the major National Highways that pass through Kankavli connects it with main towns of the state and the country as well. There are regular MSRTC and private luxury buses plying between Kankavli and nearby cities include Kolhapur, Belgaum, Panaji and the towns of Karnataka State. Buses are easily accessible from Kankavli and other local bus terminals.
Kankavli Railway Station is located just 2 km away from the centre of the town and Dabolim Airport Goa is the nearest airport to Kankavli situated at a distance of 133 km.
Places to see in and around Kankavli:
Bhalchandra Maharaj Ashram:
Bhalchandra Maharaj Ashram is the place of penance of Bhalchandra Baba. This holy place widely popular in the state and Shri Dev Kashivishveshwar and Shri Dev Datta Temple are located near Bhalchandra Maharaj Ashram.
Sindhudurg Fort: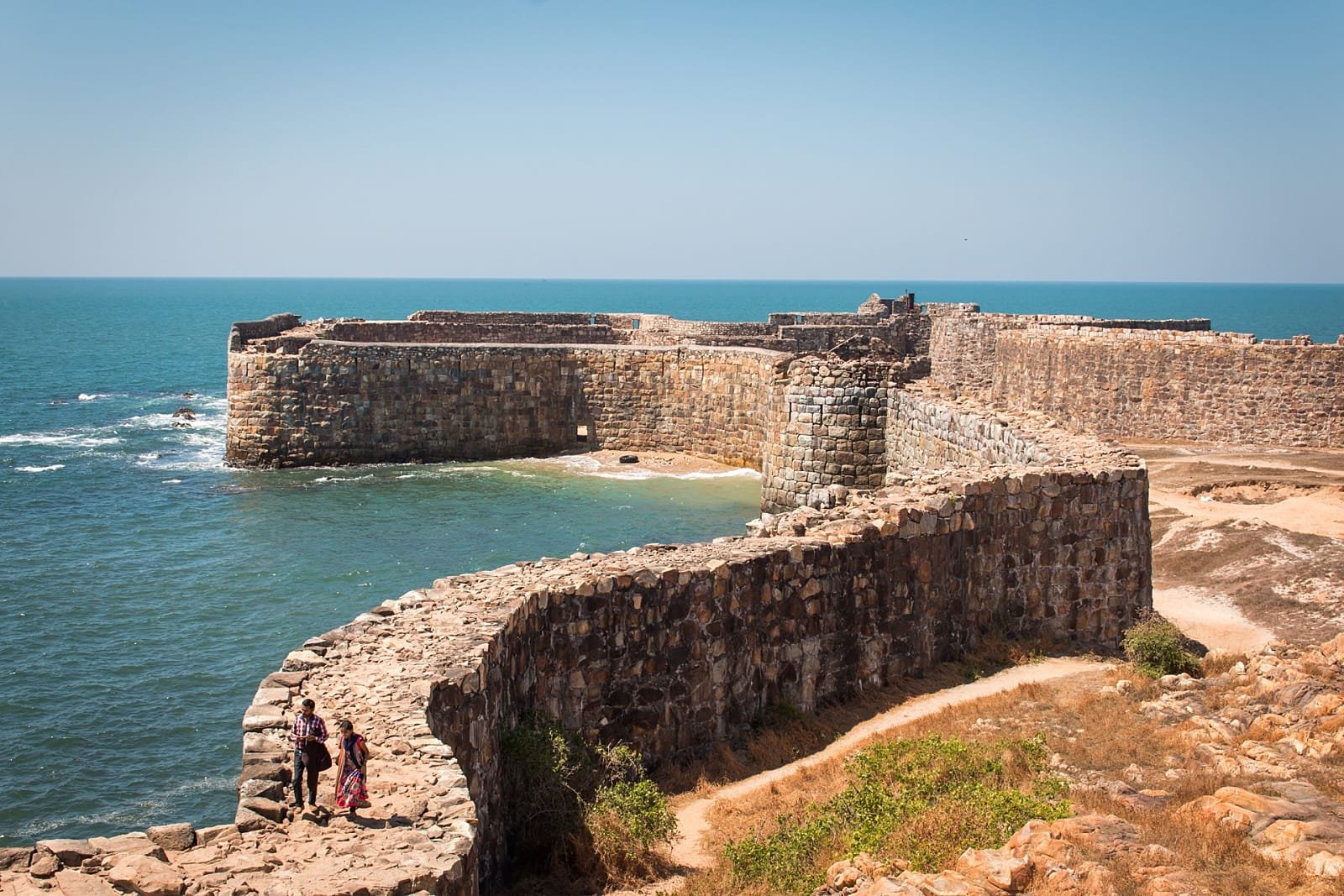 Sindhudurg Fort is a must see place of Kankavli. It is believed that Sindhudurg Fort was built by great Maratha Empire Shivaji during 1664-67.
Savdav Waterfall:
Savdav Waterfall is located 10 km away from Kankavli Town centre attracts tourists all over the district for its natural beauty.
Tilari Dam:
Tilari Dam is situated at the coordinates of 15.759875° N 74.121323° E in Dodamarg Taluk. The dam was established in the year 1985 with length of over 350 meters and height of 22.74 meters.
Other tourist attractions in and around Kankavli:
Vijaydurg Fort Devgad
Navadurga Temple
Navdurga Redi
Amboli Hill Station Sawantwadi
Vijaydurg Fort Devgad
Dev Kaleshwar Temple
Malvan Marine Wildlife Sanctuary
Kunkeshwar Temple
Lakshminarayan Temple
Radhanagari Wildlife Sanctuary
Shree Dev Rameshwar Temple
Mangeli Waterfall
Shri Dev Rameshwar Temple
Sawantwadi Palace
Shri Dev Kaleshwar Temple
Shri Devi Yakshini Temple
Best time to visit Kankavli:
Best time to visit Kankavli is from September to early February to see historical fort and beautiful waterfall.
Accommodation Options in Kankavli:
The hotels of Kakinada provide the facilities of doctor on call, 24 hour electricity and internet, laundry,  garden area, conference hall, fitness centre, hot water bath air ticket booking, pick up and drop to airport, tennis court and parking area. Tourist can choose the hotels of different ranges include budgeted, mid range and luxury. The best hotels in Kankavli with various facilities are as follows:
Waterfall Jungle Resort
Malvan Kinara
Abhiruchi Resorts
Neelam Country Side
Tian Beach Resort
Hotel Chivala Beach
Neelams Country Side
RSN Executive Inn
Pitruchaya Homestay
Nivati Beach Resort
Raj Residency Club & Resort
Shreeyog Paryatan Homestay
Sri Sai Palace
Lishan Resort
The Hill Treat Hotel & Resort