Beautiful Tourist Places in Panhala, Kolhapur, Maharashtra, India
Panhala is a municipal town and a popular hill station situated in Kolhapur District of Maharashtra State in India. It s located about 23 km northwest of Kolhapur, about 379 km southeast of Mumbai and about 232 south to Pune City.
Panhala is widely popular for ancient historical Panhala Fort and is located between 16.82° N latitude and 74.12° E longitude. Panhala is positioned about 754 meters from the mean level of sea.
Panhala Arboretum is the major landmark of the town. Arboretum stretched in an area of 2.56 hectares houses more than 3000 flower plants. Panhala Arboretum houses variety of floras include 156 species of trees, 7 species of grasses, 86 species of shrubs, 18 species Perennial Herbs, 3 species of orchids, 32 species of climbers, 6 species of bamboos, 5 species of bamboos, 2 species of cycads and 6 species of ferns.
Connectivity to Panhala:
There are two easy roads to reach Panhala, one is from Kolhapur City (23 km away from Panhala) and another one is Sangli (55 km away from Panhala). One can reach Panhala from Kolhapur and Sangli by private cars, Autos and MSRTC buses easily. Panhala Bus Stand is the major bus station of the town and also tourists can board buses from other local bus terminals too.
Kolhapur Railway Station is the nearest and major railway station to Panhala located at a distance of 21 km and Kolhapur Airport is the closest airport to Panhala situated at a distance of 30 kms.
Tourist places in and around Panhala:
Panhala Fort:
Panhala Fort is the prime attraction of Panhala and it is said that the fort was constructed between 1178 to 1209 AD. This fort played a great role in the Maratha Empire. It is believed that famous Maratha Empire Shivaji spent one year of his life in Panhala Fort. Triangular shape of the walls of the fort looks very beautiful and the fort is sited 6 km away from the beautiful white and green colored Dargah.
The three gates of the fort are the major attractions of the fort and the first gate has the Persian manuscript about Adil Shah Inscription, the second gate has manuscript of Lord Ganesha and the third one has a manuscript of Lord Hanuman.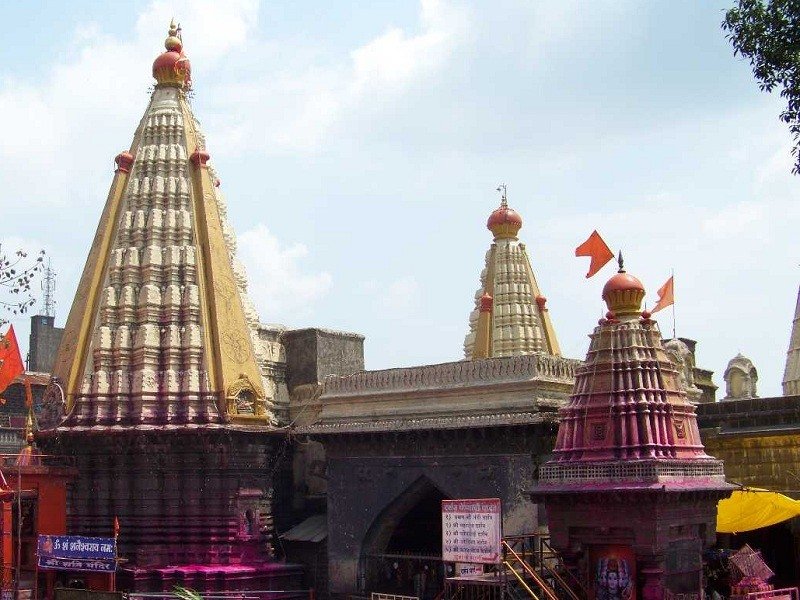 Jyotiba Temple:
Jyotiba Temple is a famous temple has an idol of Jyotiba and the temple is placed about 3124 feet from the mean level of sea lies on Panhala Range. There is annual fair celebrated in Jyotiba Temple during the months of Chaithra and Vaishakha.
Parashar Caves:
Parashar Caves is an ancient pilgrim place of the Panhala and is believed that the great saints carried out meditation in these caves in the past. It is said that, the renowned Marathi Poet Moreshwar Ramji Paradkar popularly known as 'Moropant' had completed majority of his poems in this caves.
Sunset Point:
There is one prominent sunset point situated in the northern side of the Panhala Fort. This sunset place is visited by thousands of tourists from all over the district in the evening time because of its stunning beauty.
Panhala Water Tank:
Panhala Water Tank is a must visit place located just beside the major temple of the town. The water of the tank is very clear and fills with full of water in the monsoon season especially in the months of June and July.
Other tourist places in and around Panhala include:
Sajja Kothi
Parashar Caves
Ichalkaranji
Bhudargad
Kagal
New Palace
Binkhambi Ganesh Mandir
Mahalaxmi Temple
Bhavani Mandap
Rankala Lake
Gagangiri Maharaj Math
Radhanagari Dam
Irwin Agricultural Museum
Shahuji Chhatrapati Museum
Nrusinhawadi
Accommodation options in and around Panhala:
Hotels situated in Panhala and Kolhapur offers variety of south Indian, North Indian and Chinese foods at reasonable prices along with top rated hospitality services. The major hotels in Panhala are:
Hill Top Hotel
Valley View Grand
Panhala Fort Resort
Mahalaxmi Resort
Tourist Inn Hotel
Hotel Centre Palace
Gulmohar Residency
Anand Hotel
Empire Residence
Texan Hotel
Shahi Niwas
Annapurna Residency
Ayodhya Hotel
Maratha Regency
Tourist Hotel
Woodland Hotel
Opal Hotel