Visit to Tourist Places in Bijapur, Karnataka, India
Bijapur (Vijayapura) is located in Northwest direction of Karnataka famous for historical monuments and architectural prominence that were built by ruler Adil Shah. Bijapur is about 530 kms from Bangalore, 550 kms from Mumbai and 384 kms from Hyderabad. Bijapur covers an area of 10.541 sq kms and lies at elevation of 2530 feet above sea level. Bijapur has a literacy rate of 84% and Kannada is the main spoken language of the natives in Bijapur. Bijapur coordinates with 16.82' degree North Latitude and 75.72' degree East Longitude with Postal Code being 586101.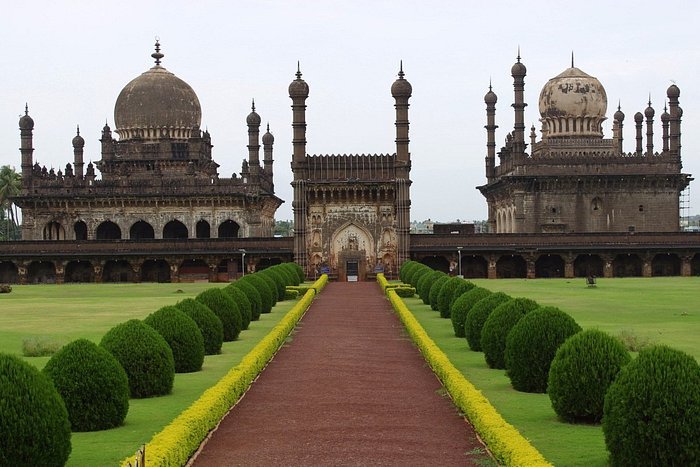 History about Bijapur:
Bijapur was earlier ruled by Bahamani rulers in 1518 followed by Adil Shah rulers from 1520 A.D to 1686 A.D. Bijapur was conquered by Mughal Emperor Aurangazeb in the year 1686 A.D. Later Bijapur came under the rule of the Marathas followed by the British who defeated the Marathas in Third Anglo Maratha War. After India gained independence in the year 1947, Bijapur was still a part of then Bombay State and later became a part of Karnataka in the year 1956.
Tourist attractions in Bijapur:
Gol Gumbaz:
Gol Gumbaz is known as one of the largest domes of the world that has a tomb of Mohammad Adil Shah who ruled the place from 1627 A.D. to 1657 A.D. One main attraction of the structure is that one can hear their voice echoing 7 times which is a major tourist attraction in this part of the city.
Ibrahim Rauza:
This is another prominent structure located in Bijapur which has the tomb of Ibrahim Adil Shah II who ruled the city from 1580 A.D. to 1627 A.D. who was known for his religious tolerance. Built on a single rock, the structure is famous for its true masterpiece work and craftsmanship which attracts large number of tourists from all over the world.
Malik-e-Maidan:
This is one of the biggest cannons of the world and the name Malik-e- Maidan refers to "Masters of the battle front". The canon measuring 4 meters long and weighing 55 tons was carried from Ahmednagar in 17th century. It was said that the explosion of the canon was so loud that the gunman had to hide beneath a water tank to avoid the deafening sound.
Upli Buruj:
Upli Buruj was built by Hyder Khan in the year 1584 that consists of a high tower measuring 80 feet in height. The tower is spherical in shape and one has to take narrow steps winding inside the tower. The tourists and visitors can have a good birds eye view of the city of Bidar from top of the tower.
Chand Bawdi:
Chand Bawdi is one of the storage water tanks built by Ali Adil Shah towards eastern side of Bijapur city to provide water supply facility for the natives of Bijapur which had a storage capacity of 20 million liters. The tank was named after his beloved wife Chand Bibi.
Asar Mahal:
Asar Mahal was built by Mohammad Adil Shah in the year 1646 which served as Hall of Justice during the emperor's period. The structure was also used to store the hairs from Mohammad Prophets's beard. There is a water tank and a garden located within the premises of the Asar Mahal. One can still find the ruins of the mosque located on top of the citadel wall which have many stone inscriptions. Currently the monument is maintained and preserved by Archeological Survey of India.
Gagan Mahal:
Gagan Mahal literally means Sky Palace which consists of 4 wooden pillars and central arch that was built by Sikandar Adil Shah which draws lot of tourists from different parts of the country and abroad.
Barakaman:
Barakaman contains the mausoleum of Ali Roza which was built in the year 1672 containing 7 arches and graves of Ali Roza and his queens which is one of the major tourist spot in Bijapur.
Saat Khabar:
Saat Khabar may not have all the beauty or the charisma of a Gol Gumbaz or Ibrahim Roza. It is known as dark tourist spot where the ruler Adil Shah led all his wife to a nearby well and pushed one by one into the well fearing that they should not get married after his death.
Lord Shiva Statue:
This statue measuring 85 feet in height and weighing 1500 tons is the 2nd biggest statue in the country located in Bijapur and is gradually becoming a prime pilgrimage center in this part of the city.
Torvi Narasimha Temple:
This temple is about 5 kms from Bijapur which has the deity of lord Narasimha and the locals visit the temple every Saturday. It is a popular tourist spot near Bijapur.
The Archaeological Museum:
The museum has vast collection of statues, portraits, inscriptions, paintings, sculptures and weapons which are neatly displayed for public viewing. The museum is run and maintained by Archaeological Survey of India and is one of the most popular hotspots in Bijapur.
Other prominent attractions include:
Jami Masjid
Jod Gumbaz
Jala Manjil
Sat Manzil
Taj Bavadi
Malika Jahan Begums Mosque
Malik Sandals Mosque
Parsvnath Temple
When to visit Bijapur?
Bijapur can be visited all round the year, but the most visiting season will be from October to March where the temperature is bearable and pleasant. The maximum temperature will be around 30 degrees while the minimum temperature will be around 15 degrees. Summers are normally very hot and arid as Bijapur falls under subtropical climatic weather conditions.
How to reach Bijapur in Karnataka?
Bijapur is well accessed by roadways, railways and airways as National Highway 13 and National Highway 218 pass via Bijapur. NEKRTC plies regular and Volvo bus services from Bijapur to Bangalore, Mumbai, Pune, Hyderabad, Mangalore, Mysore, Hubli and Belgaum cities. The city is also well linked by railway network as several passenger, intercity and express trains pass via Bijapur Railway Station. Bijapur is connected directly to Solapur, Bagalkot, Gadag, Dharwad and Bellary at frequent intervals. As Bijapur does not have an airport of its own, the nearest airport is Belgaum Airport which is about 205 kms from Bijapur.
Where to find accommodations in Bijapur?
The tourists can find many good hotels ranging from 1 star category to 5 star category providing host of luxurious amenities and facilities. The hotels offer world class services and show immense hospitality to the tourists who have taken accommodations in such hotels during their stay in Bijapur. Some of the finest 5 star hotels offer services like airport pickup and drop, arrange for package tours, arrange conducted tours, set up help desk centers etc. List of hotels located in Bijapur are:
Sri Godavari Laxmi Hotel
Hotel Neelkamal
Hotel Durga
Shankar Hotel
Hotel Shashinag Residency
Hotel Pleasant Stay
Hotel Royal Residency
Hotel Megharaj
Hotel Pawan
Hotel Mayura Adil Shahi
Hotel Eashwar
Hotel Sagar Deluxe
Hotel Ruchi
Hotel Kapil