Top 5 Beautiful Beaches in Kerala, India
Kerala is known as 'God's Own Country' and is one among the best tourist destinations and it got lots to offer the tourists. The coastline stretches about 700 to 800 kms. The elegant land of beaches, cool backwaters and abundant greenery has conquered travelers from all over the world. No doubt in considering that Kerala has got the best beaches of India. The waters of Kerala are famous for swimming, sun bathing, water sports, parasailing, surfing and much more.
An exclusive part of these beaches is the ayurvedic massages by experts that are really refreshing. You can also find eatables in the beachfront that offers you with the traditional cuisine. The natural beauty is the main attraction of these beaches.
1. Kovalam Beach
It is one of the most preferred beaches of Kerala and is located at a distance of 15 kms away from Trivandrum. This beach is known for its panoramic view of the sea. One cannot miss to visit the Lighthouse beach and Eve's beach, as they are the most significant beaches of Kovalam. You can find many Ayurvedic resorts and shops that offer you with all your necessities. You can enjoy all the activities of the beach. Kovalam beach is a falcate shaped beach bordered with coconut trees and they keep swaying gently by the breeze blowing softly in the region.
The silvery white sands are ideal for a leisure walk in the evening and at the same time the clean crystal clear water will hypnotize you to jump in for an enjoyable swimming session. If you are simply a passive traveller and love to enjoy the nature's bliss, this is one of the finest beaches to sit and relax. You can opt for lounge chairs which are available in plenty here.
How to Reach?
Nearest railway station: Thiruvananthapuram Central, about 16 km
Nearest airport: Trivandrum International Airport, about 10 km
2. Varkala Beach
This beach is known for its calm atmosphere and is the perfect destination for people who love peace. The boundless sea surrounded by swaying coconut trees is an awesome view. You can enjoy scuba diving, swimming, surfing and much more at this beach. Nearby tourist places are the Shree Janardhana Swamy Temple and Thiruvananthapuram.
Accommodations Around Varkala Beach :
Varkala has all ranges of accommodation options, from luxury resorts to reasonable homestays. Here's the list of some popular hotels and Homestay:
The Taj Garden Retreat
Blue Water Beach Resort
Akhil Beach Resort
Clafouti Beach Resort
The Gateway Hotel
Wood House Beach Resort
Hindustan Beach Retreat
Villa Jacaranda
La Exotica Homestay
Siva Gardens
Karthika Plaza
Casa Eva Luna
Krishnatheeram Ayur Holy Beach Resort
Anamika Ayurvedic Heritage Resort
Deshadan Cliff & Beach Resort
How to Reach?
Nearest railway station: Varkala, about 3 km away
Nearest airport: Trivandrum International Airport, about 57 km away
3. Thangasseri Beach
Thangasseri beach is located 5 kms away from Kollam and is surrounded by the palm trees. You can enjoy beach activities such as speedboat riding, parasailing, scuba diving and much more. Enjoy sunbathing in order to refresh your mind. Thangasseri Lighthouse, Dutch Forts etc are some of the major attraction that you can visit once you turn up to this beach.
Activities on Thangasseri beach
Thangasseri beach has been blessed with calm sea waves and tourists as well as locals who are fond of swimming, throng this beach in huge numbers, all round the year. If you are fond of water sports, you can partake in activities like deep sea fishing, speedboat ride, scuba riding, surfing and catamaran riding. Sun bathing here is quite popular amidst foreign nationals.
Nearest Railway Station: Kollam Railway Station (5 km)
Nearest Airport: Thiruvananthapuram International Airport (66 km)
4. Cherai Beach
Cherai beach is known as 'Princess of the Queen of the Arabian Sea' and the coastline goes upto 20 kms. The coconut trees surround the beach and the children enjoy an exclusive watch of dolphins. Swimming is safe here that is most wanted by the tourists. The Cochin International Airport is the adjacent airport that leads you to this beach.
How to Reach?
Nearest railway station: Ernakulam Junction (a km from the main boat jetty)
Nearest airport: Cochin International Airport (20 km)
 5. Bekal Beach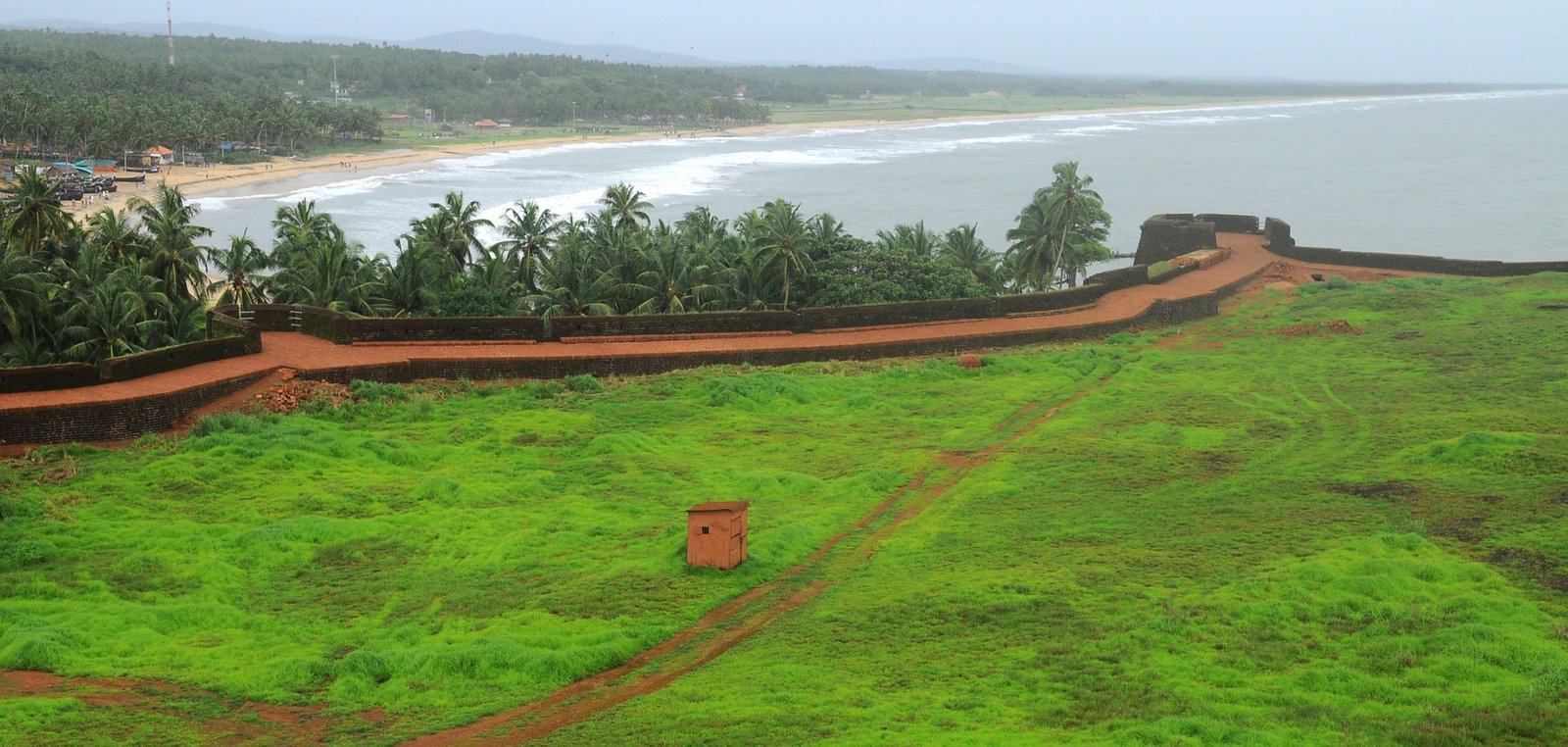 Bekal Beach is famous for its scenic beauty,  The long historic fort just near the sea , The fort is more than 300 years old, Bekal Beach  lies very close to Bekal Fort. Excellent beach to relax and recreation. Beach is situated in the Kasaragod district in north Kerala, best time to visit Bekal Beach is from August to March.
Accommodation
There are large numbers of hotels and resorts around the Bekal. Right from luxurious villas to budget hotels, all kind of lodgings are available as per your needs and requirements. Some hotels also have spa and fitness centre where you can take the pleasure of body massage and spa.
Few popular hotels and resorts are mentioned as below:
Chandralayam Homestay
Hotel Bekal Palace
The Lalit Resort & Spa Bekal
Nirvana @ Bekal
Thalathoor Heritage Homestay
Vivanta by Taj- Bekal
How to Reach?
By Road: Kasargod has a good network of buses to most of the corners of Kerala. If you want to reach Bekal Beach by road, you can board any of the buses to Kasargod from cities like Mangalore, Kochi, Kannur, Thrissur, and others, or you can hire private taxis or cabs to reach this beach destination.
By Train: Kasargod rail head is the nearest point to reach Bekal Beach by train; only 16km.It shares a good-connectivity to some of the important destinations in India.
By Air: Mangalore Airport at a distance of 50km is the nearest airport to reach Bekal Beach. Upon arriving at the airport, visitors can take regular buses or hire private taxis to reach Bekal Beach.
Other Beaches of Kerala are:
Alappuzha Beach
Dharmadam Island
Ezhimala Beach
Kizhunna Ezhara Beach
Pallikere Beach
Payyambalam Beach
Shanghumukham Beach
Somatheeram Beach
Thirumullavaram Beach