Iruppu Falls

– Fascinating Beauty
The Iruppu falls falling from a height of 170 feet offers a spectacular sight to its onlookers. The river bounces upon rocks giving an uneven velocity to it. The surrounding wildlife and vegetation provides scintillating natural scenery to its viewers. Iruppu Falls is a very significant holy place and pilgrimage centre. A Shiva temple has been constructed on the banks of river Lakshmana thirtha. On every Maha Shivratri people gather here from all over the country, they take a dip in the chaste river Lakshmana thirtha which is a tributary of Kaveri. A huge amount of people gather and in the evening a grand function is organized which comprises of prayers to Lord Shiva by Pandits and food is distributed among beggars.
Location:
Iruppu falls and temple is located at a distance of 20Km from Nagarahole national park and 50Km from Madikeri. You will take almost an hour from Madikeri, in Coorg to reach this place. Also Virajpet village is about 48 kms. Falls are sited on the outskirts of Brahmagiri hill range in the Western Ghats. A tributary of the waterfall joins Cauvery River to form Lakshmana Teertha.
Reaching:
By Air: The nearest domestic airport is located at Mysore and the nearest international airport is situated at Bangalore.
By Rail: The nearest rail junction is sited at Mysore.
By Road: You can easily avail taxi and KSRTC buses from Madikeri. The nearest town Srimangala is located at a distance of 10Km.
Ideal Time to Visit: The best season to enjoy the fall at its fullest is Monsoon between the months of July and September. The river is fully flooded which increases the speed of the water up-to a very large extent.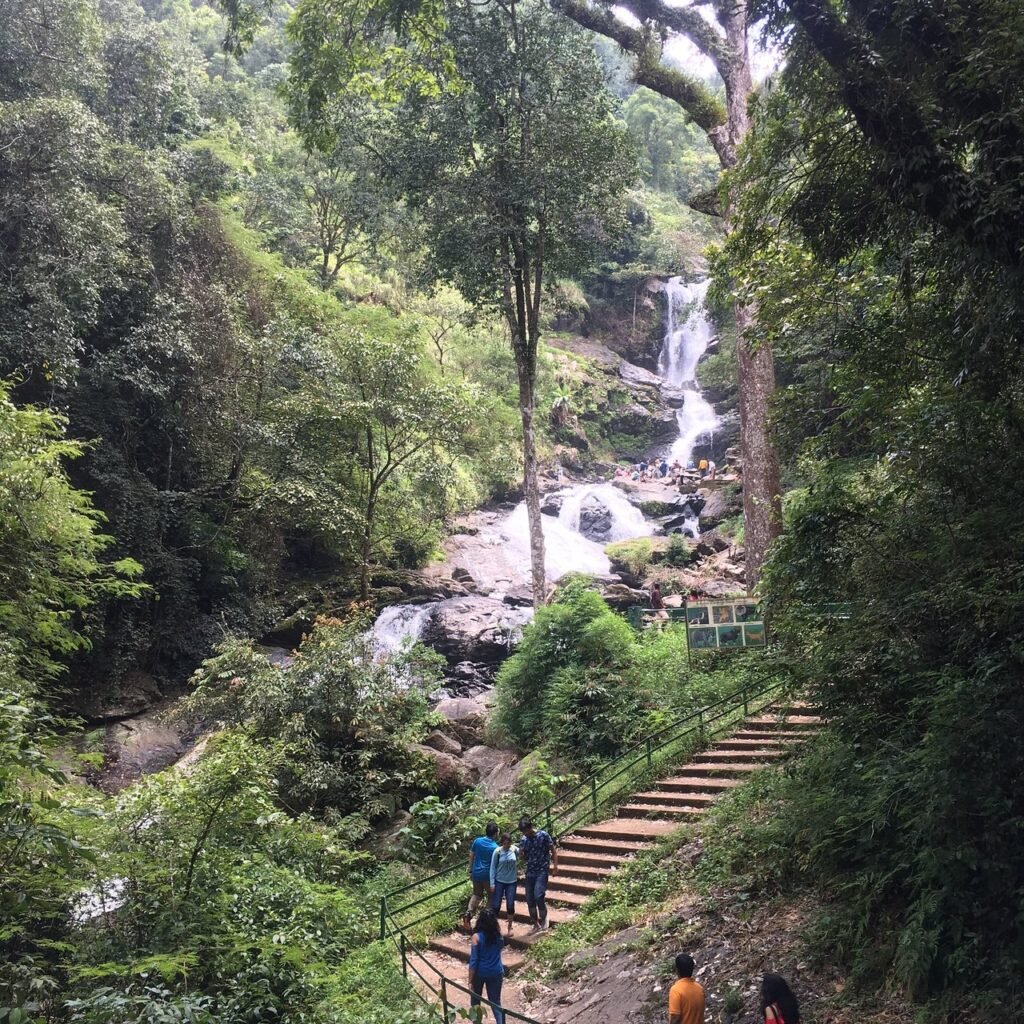 Major Attractions: The whole atmosphere in this place is very soothing and peaceful. Coorg is called the Switzerland of India, the reason being its lush greenery, valleys and mind capturing mountains. If you really tired of you hectic city life, then it is the place where you can revitalize yourself. It helps you forget the weariness of your busy life. You will have a really unusual experience when you listen to the thundering sounds of the stream amidst the silent surrounding.
This is a perfect place for picnic with friends as well as families. You can just pack your lunches and enjoy the serene beauty of the surroundings.
This place is ideal for outdoor sports lovers. You can do trekking, river rafting, rock climbing, mountain hiking, dirt track racing, camping and many more things to enjoy. Trekking has some prominent spots which include Thadiyandamol (1908m.), Pushpageri (1870 m.); Kotebetta (1620 m.); Choma Kundu (1620 m.); Brahmagiri (1340 m.); Nishani Motte (1270 m.); Tungapare (1240 m.); and Mandalapatti (637 m.) .
The Rameshwara Temple located on the Brahmagiri peak is dedicated to lord Shiva and you will find an immense number of devotes during Shivratri.
Spices like pepper and cardamom and dry fruits are really famous and you can get them at very affordable prices. Also if you have come to this place you definitely have a look at their common attires and traditional weapons.