Are you tired with the normal life? Then pack your bags and ride your way to the beaches of Daman Diu that is located in the state of Gujarat. This elegant land with scenic beaches has attracted tourists from all over the world.
Located in a private atmosphere, Daman Diu beaches are an ideal destination for people who love peace and need refreshment. Swimming is safe here as the waters are calm and one can stroll on the golden sand and experience the difference. Walk along the seashore with your beloved ones watching the magical moments the sunrise and sunset. You can watch children indulged in collecting seashells and busy at making sand castles and taking pictures of their innovative models. If you are hungry then just walk into the small stalls found in the beachfront. Enjoy your day indulging in all the above activities.
Popular Beaches of Daman and Diu
1. Noga Beach
Nagoa beach is situated just 30 drives from the Diu town and the most attractive part of the beach is regarding its shape. Horseshoe shaped beach and is the best place to relax and rejoice your vacation. You can find adventurous sports being played here that are main reason why people turn up to this beach.
Enjoy your day in taking part in all the water sports like para-sailing, water skiing, wind surfing, jet skiing and much more. Swimming need not have to be worried, as the waters are calm and cool. Lying down on the seashore with your favorite novel in your hand gives you a relaxing sensation or enjoys sailing on a boat.
Accommodation is easy as you can find many resorts and high, low budget hotels in a well-planned location. You can hotels like Radhika Beach Resort, Resort Hoka and many more that offer you with the best facility.
If you are a person who love water, greenery, sun, sand all in all nature then don't miss to visit this beach as it holds everything that you would love to see. Relax the whole day lying down with your books under the tree shades and take a walk along the seashore with your bellowed ones and experience the most romantic moments of your life. Swimming is safe and fun need not worry about safety, as the waters are calm.
For accommodation you can find hotels and resorts. Some of them are Jazira Hotel, De Daman, Hotel Miramar, Sandy Resort and many more. Feel the cool and calmness visiting these beaches.
Attractions in and around Nagoa Beach: This beach is surrounded with beautiful landscapes; holy shrines and one cannot miss the collection of artifacts in the museums. Some of the famous attractions around this beach are:
Naida Caves
Zampa Gateway
Portuguese Fort
Fortim do Mar
Goptimata Beach
Diu Museum
Church of St Francis of Assisi
St Thomas Church
Pani Koth
INS Khukri Memorial
Sea Shell Museum
Accommodation at Nagoa Beach: Accommodation is no dearth as you can find many luxury hotels, resorts and cottages that offer you with the best facilities and services. The hotels are located in well-planned areas that comfort you to access to all the tourist places. The rooms are furnished and available with television, air-conditioning en-suite bathroom.  Hotels here are provided with restaurants that offer with delicious cuisines and you can also find conference halls.
Some of the popular Hotels:
Radhika Beach Resort
Kohinoor
The Resort Hoka
Hotel Suzlon Beach
Hotel Cidade de Diu
Hotel Hemal Garden
Suzlon Beach Hotel
Reaching Nagoa Beach: Traveling to Nagoa beach is not difficult. Close by you can find the Nagoa airport and regular flights from Gujarat, Maharashtra and Mumbai land in this airport. The nearest railway station is in Veraval. Diu is interlinked with all the major roads. Mumbai is 200 kms; Ahmedabad is 350 kms far from this beach. Plan your vacation to this beach and enjoy yourself to the utmost.
2. Devka & Jampore Beach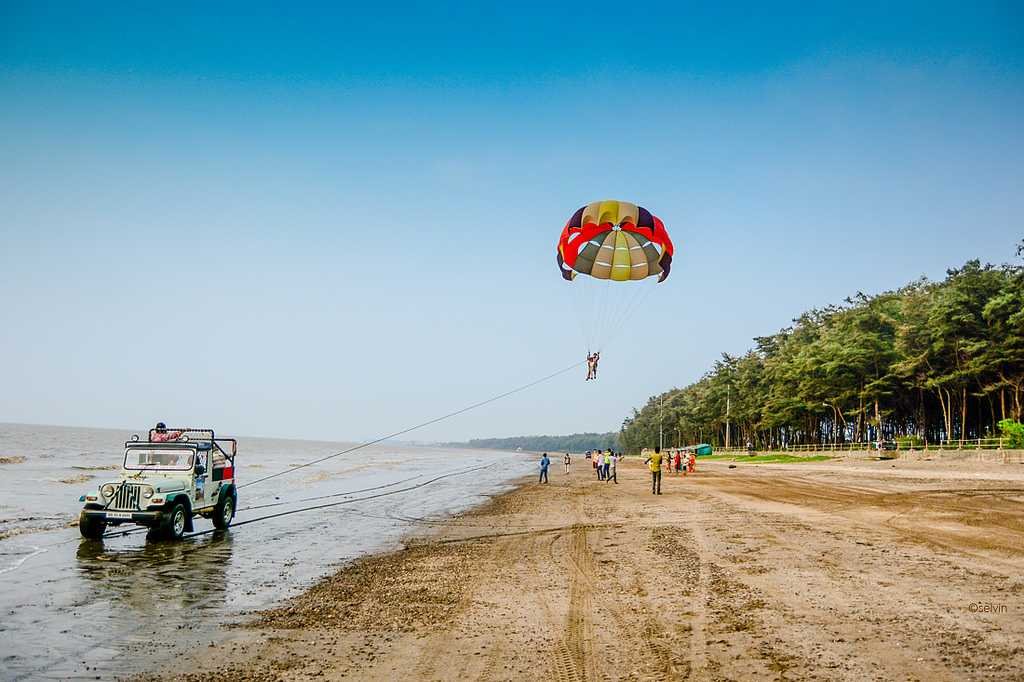 The best attraction of Devka & Jampore Beach is the nature's beauty. It's an ideal destination for your peaceful vacation.
Events at Devka & Jampore Beach: In order to relax yourself way from the buzz of the city lives then don't miss this place and spend your vacation in the midst of peace and harmony. Spend your day getting into the un spoilt beach and enjoy yourself to the utmost. It is an ideal destination for families. Enjoy the dishes that are served in the local stalls found in the beachfront. Sun bathing is the most common activity and one can collect rare shells found here and keep it for themselves as a remembrance of visiting this beach.
Enjoy your weekends turning up to the Jampore Beach and is mainly visited for swimming as the waters are calm and peace.
Attractions Devka & Jampore Beach: Beach is situated in such a place that is surrounded by numerous places of interest. Don't miss the lighthouse in Moti Daman Fort and some of the famous attractions are listed below:
Fort Moti Daman
Bom Jesus Church and Our Lady of Rosary Chapel
Nani Daman
Hathi Park
Moti Daman
Moti Daman
Municipal Children Park
Nani Daman
Fort Nani Daman
Bridge Side Garden
Kachigam Water Tank
Our lady of Sea Church
Hilsa Aquarium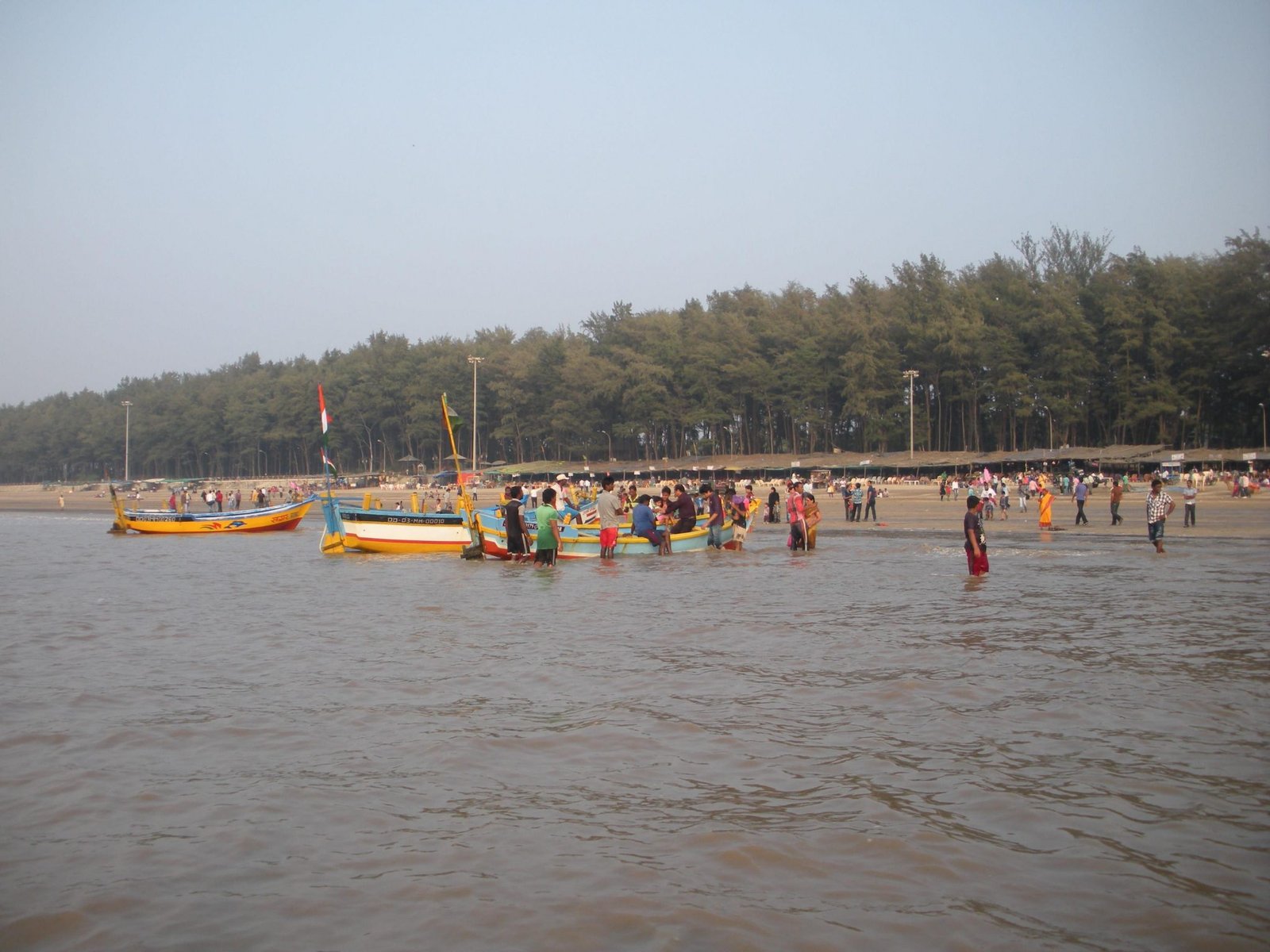 Accommodation in Devka & Jampore Beach: As more and more people are turning to this beach several hotels guesthouses and resorts are coming up. Therefore accommodation is quite easy and along with it you can find hotels that suit your pocket. Many of the resorts and hotels are situated in planned areas that comfort your transportation to different tourist spots. All these hotels offer you with the best service that feels you homely. The rooms come with en-suite bathroom, television and air-condition. Some of the luxury hotels have restaurants and party halls also. Some of the hotels:
Hotel Miramar
Sandy Resort
Cidade De Daman
Jazira Hotel
Hotel Dariya Darshan
Silver Sands Beach Resort
Hotel Sovereign
Mirasol Water Park & Resort
Reaching Devka & Jampore Beach: These beaches are linked by both private and public transportations. Vapi is the nearest railway station and is located about 10 kms away from the beach. From here you can hire a taxi or Tongas that leads you to the beach. You can also find state buses from Daman. Mumbai is about 200 kms away and Ahmedabad is about 350 kms far from this serene beach. So what are you waiting for pack your bags and make your way to this beach.